Adobe License and Installation for Faculty and Staff
Adobe Acrobat and Adobe Cloud
UCI via OIT has entered into contract with Adobe.
Adobe Cloud and Adobe Acrobat are availalbe to faculty, staff and students.
Details here: https://www.oit.uci.edu/adobe/
You can get Adobe Acrobat alone OR included with Adobe Cloud.
Steps to get Adobe
STEP 1 - Become a licensed user by registering at "On The Hub".
STEP 2 - Download and install the software from Adobe.
---
STEP 1 - Become a Licensed User​
1.  Decide if you want Adobe Cloud (includes Adobe Acrobat and other Adobe software) or just Adobe Acrobat.
  Choose the option for

Adobe Cloud

 <OR> Adobe Acrobat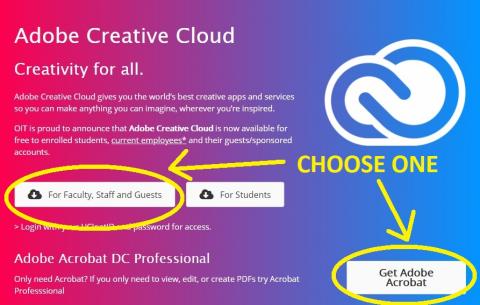 3.  You will be redirected to "On the Hub".
Log in with your UCINetID.
4.  Click "Add to Cart".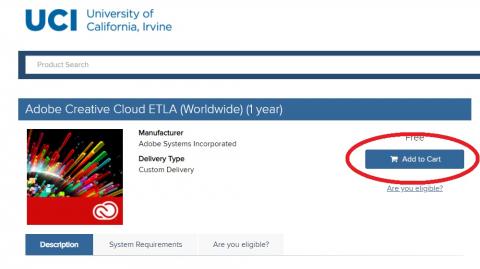 4. Complete purchase and verify.
Find "Your Account" from the drop-down menu.
Click Subscriptions. 
You should see an Invoice and Order Date.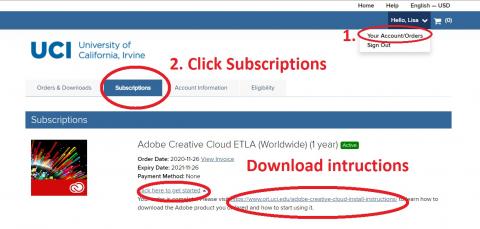 5  This process provides you with a license to use Adobe software and it registers you at Adobe.com so you can download software.
There is no serial number or confirmation.
Something happens "behind the scenes" to give you access.
6.  Follow the link on your order to install software or read below.
---
STEP 2 - Get Software from Adobe
NOTE:  Additional instructions can be found at OIT:  https://www.oit.uci.edu/adobe-creative-cloud-install-instructions/
Click "Sign In" on the top right-hand corner.

 Type in your @uci.edu email address (ex. anteater@uci.edu).

 Select option that says "Company or School account."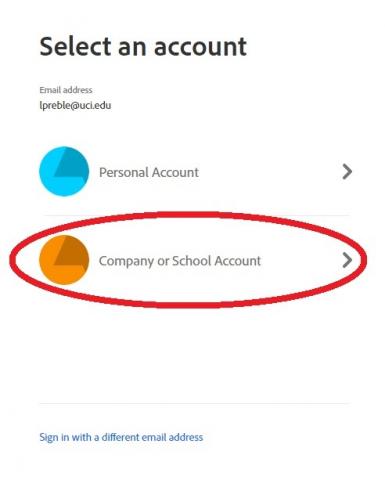 5.  Authenticate using your UCINetID credentials.
6.  Click on the "My Account" icon.
7.  Select "View Account".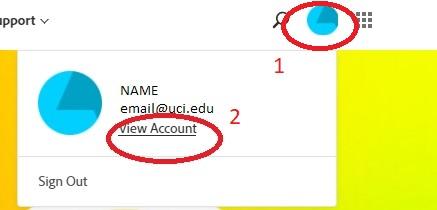 8. You should see "Adobe for Enterprise". 
Click "Access your apps and services."
If you don't see "Adobe for Enterprise", it means you did not become a licensed user.
Repeat "STEP 1" above if you don't see "Adobe for Enterprise."

9. Find "Acrobat DC Pro" and select "Download".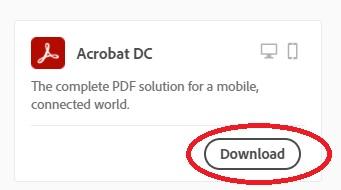 9. Next launch the application from wherever it downloaded onto your computer, then install.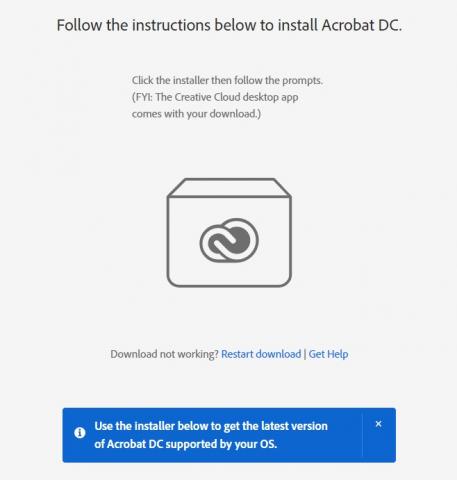 10. Thats all! Current license is through July 2021.  OIT is expected to extend the license.
For installation issues contact helpdesk@eng.uci.edu if you are Engineering faculty or staff.  Otherwise contact OIT.